My recent trek to Costco was great -- I would even go as far to say it was successful. Sometimes they're not, you see. Sometimes they run out of the highly-prized rotisserie chicken. Sometimes they have no more turkey croissant sandwiches boxed with caesar salad. Sometimes I only find one thing on my mental list, and then find myself in a long line-up at the cash register.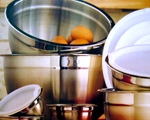 But today, today was different. It was efficient and fruitful: I got my deli selections, a chicken, and my 18/10 stainless steel mixing bowls! Costco stopped carrying them, and after a month of searching to no avail, I was afraid I would have to fork out big bucks in a regular store.

But lo and behold, as I strolled down the cookware aisle with my last shred of faint hope, there she sat. Waiting to be picked up and examined, by eager young gentlemen like me; she was so gorgeous, I was happy to do so. Plus seven of her younger sisters. A set of eight (with lids) for $24.99, the best deal I could possibly ask for.

I love Costco. And clearly, Costco loves me.