Okay, so it's not really like that: my landlord sold the place I live in, so she can't be my landlord anymore. She had agreed with the buyer that they will honour my rental agreement until its maturity at the end of May 2006 -- I'll basically just have to swap a new contract with the new landlord and tear up the old one. Starting June, it's not clear yet whether the new owner will want to continue renting, or if the rent would be the same.

So this leaves me in a bit of a pickle for living space.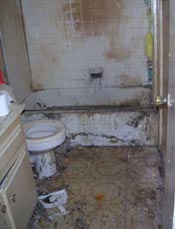 I've decided that I'm going to look for a new place to live. Somewhere closer to central Taipei, closer to the gym, and thusly a little bit further from work. After all, there's probably only one day a week where I'm not in the city anyhow, and usually it means a late-night (though traffic-free) scooter ride home when I least feel like making that trek.

Starting this weekend, I'm going to scour some candidate neighbourhoods for a small (450-500sqft or 12-14ping) studio apartment. I would really like to have a kitchen and at least some in-building laundry facilities (if not in-suite).

Time to start searching ...