I remember a comment from a friend about a wedding once.

"We were seated at what seemed like a 'random people' table. I automatically assumed that we'd be seated with [our circle of friends] ... but I guess we're not cool enough."
In the world of seating arrangements, particularly at weddings, there are just some things you can't help. I mean, you have to try to please everyone, at the same time, in the same place.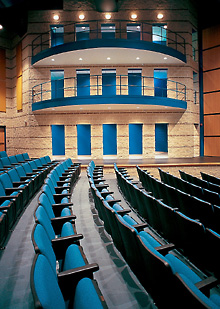 Not every circle of friends sits nicely into 10 people. Not every table gets to be right in front. Not every table will be in the thick of the excitement. Not every seat gets a perfect view; heck, not every seat is even facing the right way for a view.
I mean, really, some seats just plain suck. You could be in that seat that is facing directly away from the stage/show. And there's one of
those
at
every
table; sometimes even two. But you could also be the one in that seat, shoved into the corner table in the back, right? Then compound that with facing the back wall, next to the bathroom or kitchen so that you have constant pedestrian traffic and noisy clinking of dishes in the backroom! You know, the one table that's behind the pillar, so you can't see what's going on: that's you. The sound system doesn't travel that far, of course, so you can't hear the speeches! (That might not be a bad thing.) Hell, feels like it's just you 10 people having your own little dinner.
But it gets worse.
It's not just you and 9 friends (or 1 date and 8 friends). It's you, your date, and 8
randomly selected winners
. 8 people with whom you will find in the first 20 minutes that you have little or nothing in common with. Or worse yet, that your personalities clash in the worst way.
But as pessimistic as this all is, maybe you'll get lucky. Maybe you won't get invited at all, and you can spend that evening sitting at home in your underwear, chatting online with your other groups of friends.